ผลลัพธ์อาจแตกต่างกันไป แล้วแต่บุคคล
Update เทคนิครักษาหลุมสิว ด้วยการใช้สองพลังงานเสริมประสิทธิภาพร่วมกัน: Secret DUO Fractional RF Microneedle + Fractional ErGlasss Laser
https://youtu.be/_GcPoO9S84A

Secret Duo เป็นนวัตกรรมใหม่ในการใช้ Fractional Radiofrequency RF Microneedle + ร่วมกับ Fractional non ablative 1540 nm Erbium Glass Laser ซึ่งช่วยเสริมประสิทธิภาพร่วมกัน ช่วยในการดูแลรักษาปัญหาผิวหนัง เช่นหลุมสิว แผลเป็น ริ้วรอย ต่างๆเป็นต้นครับ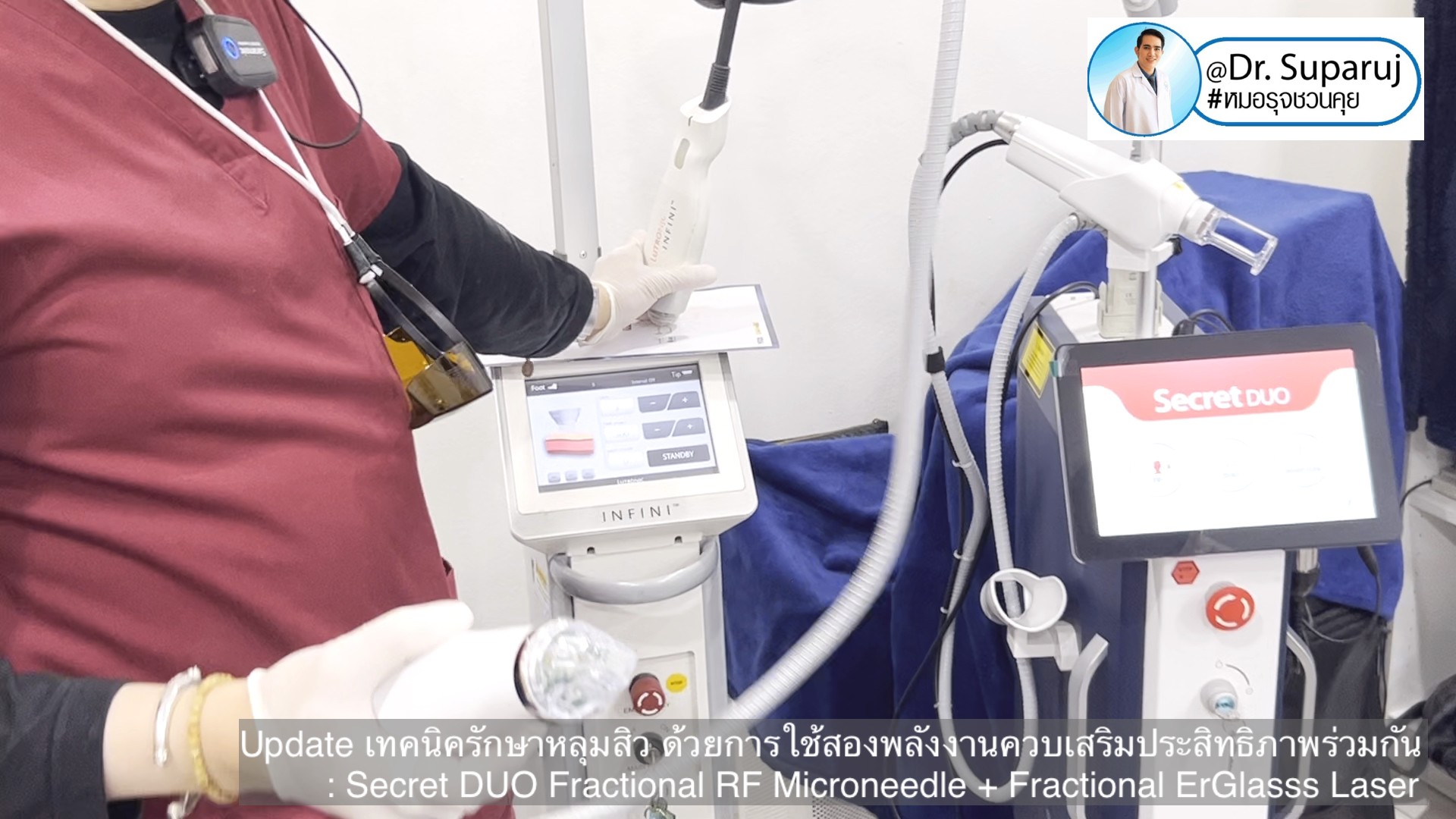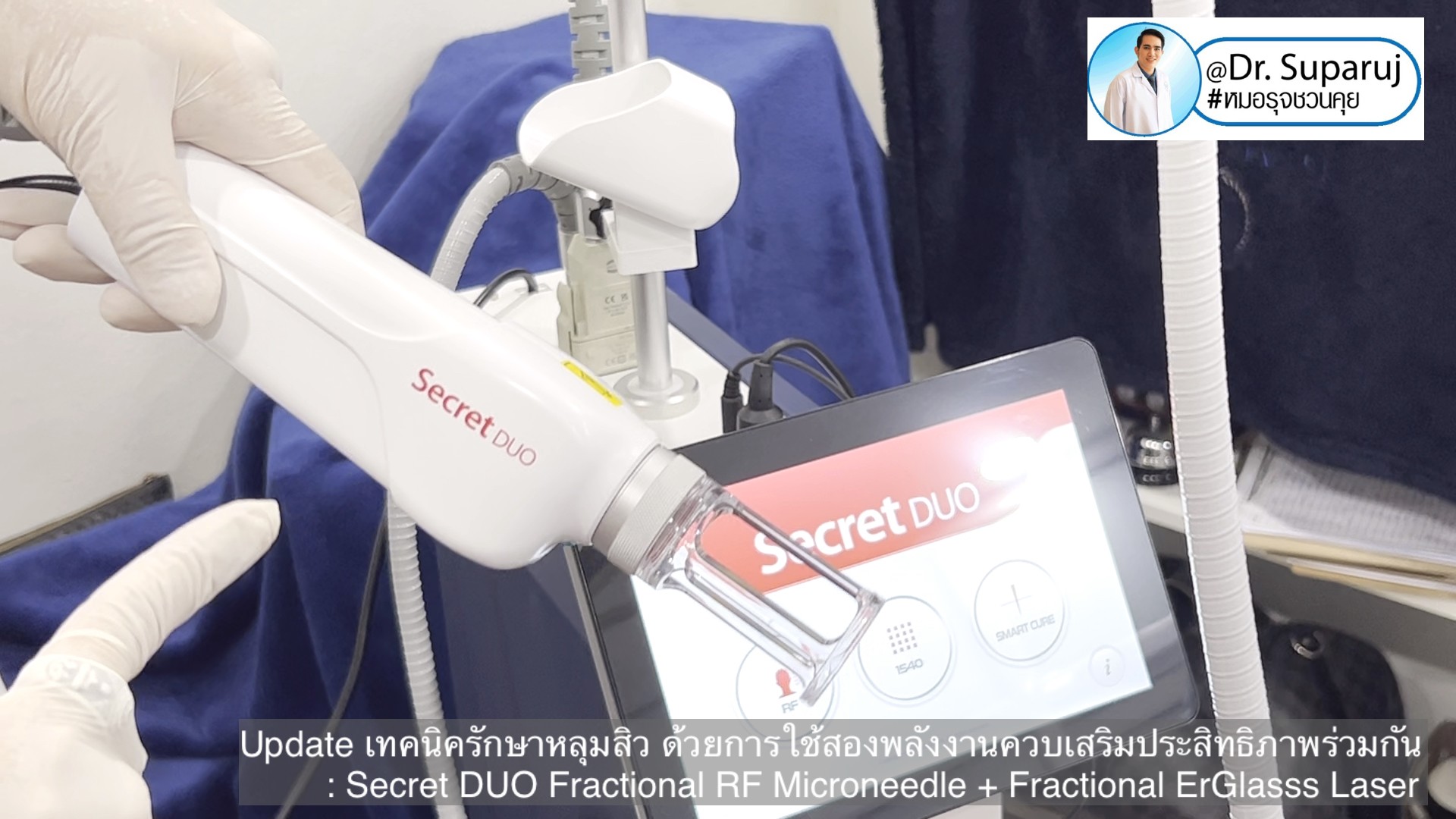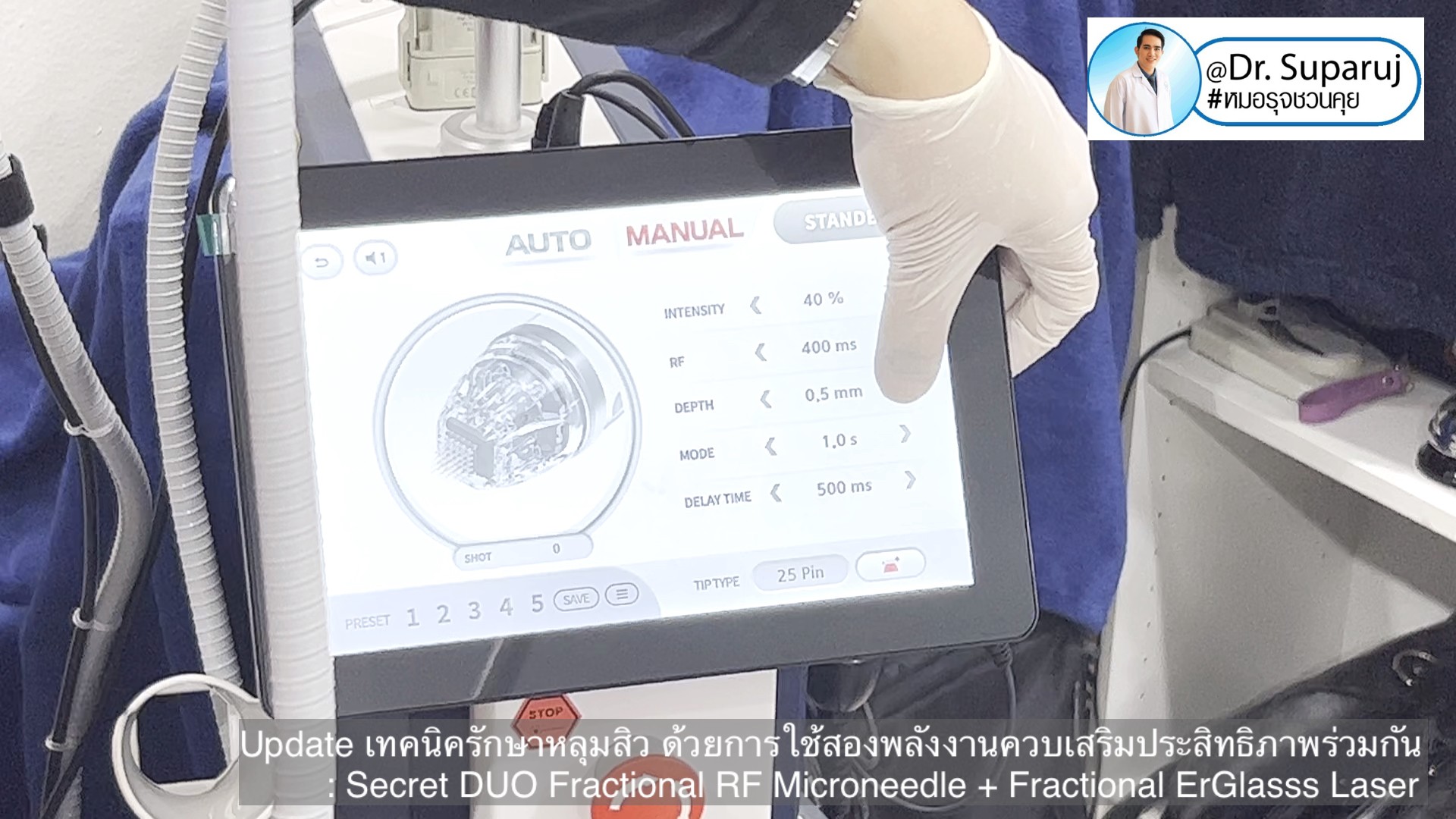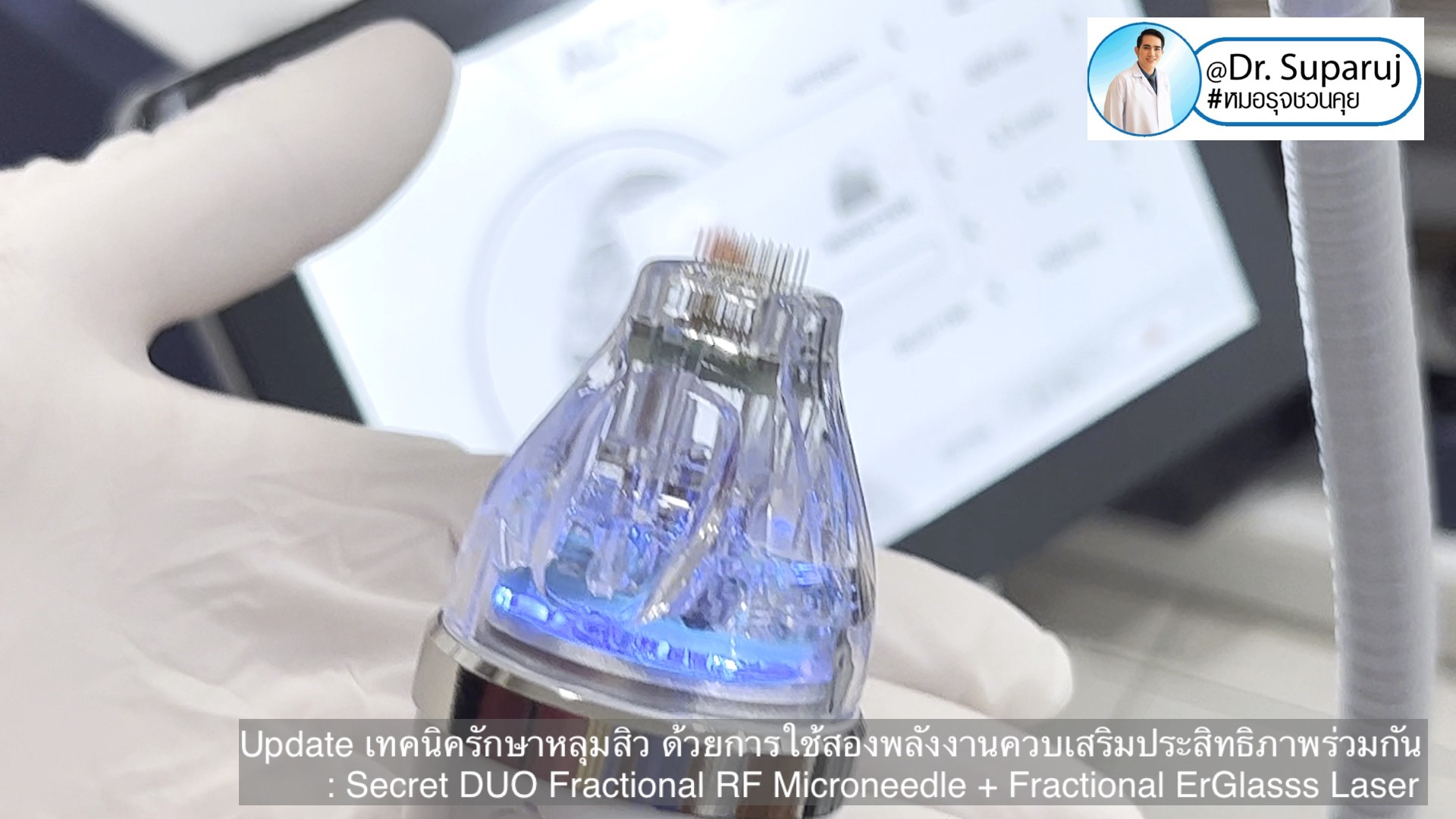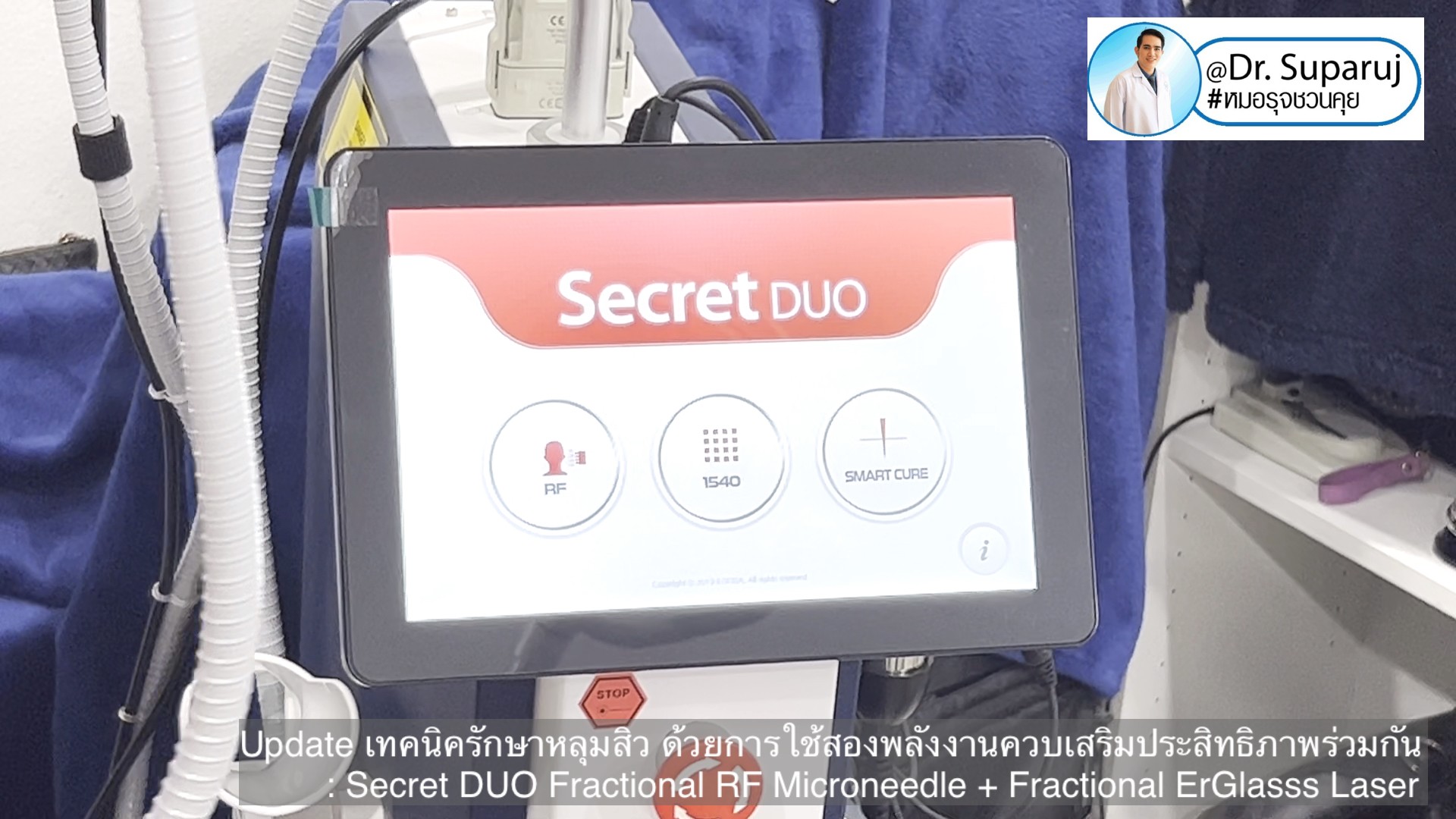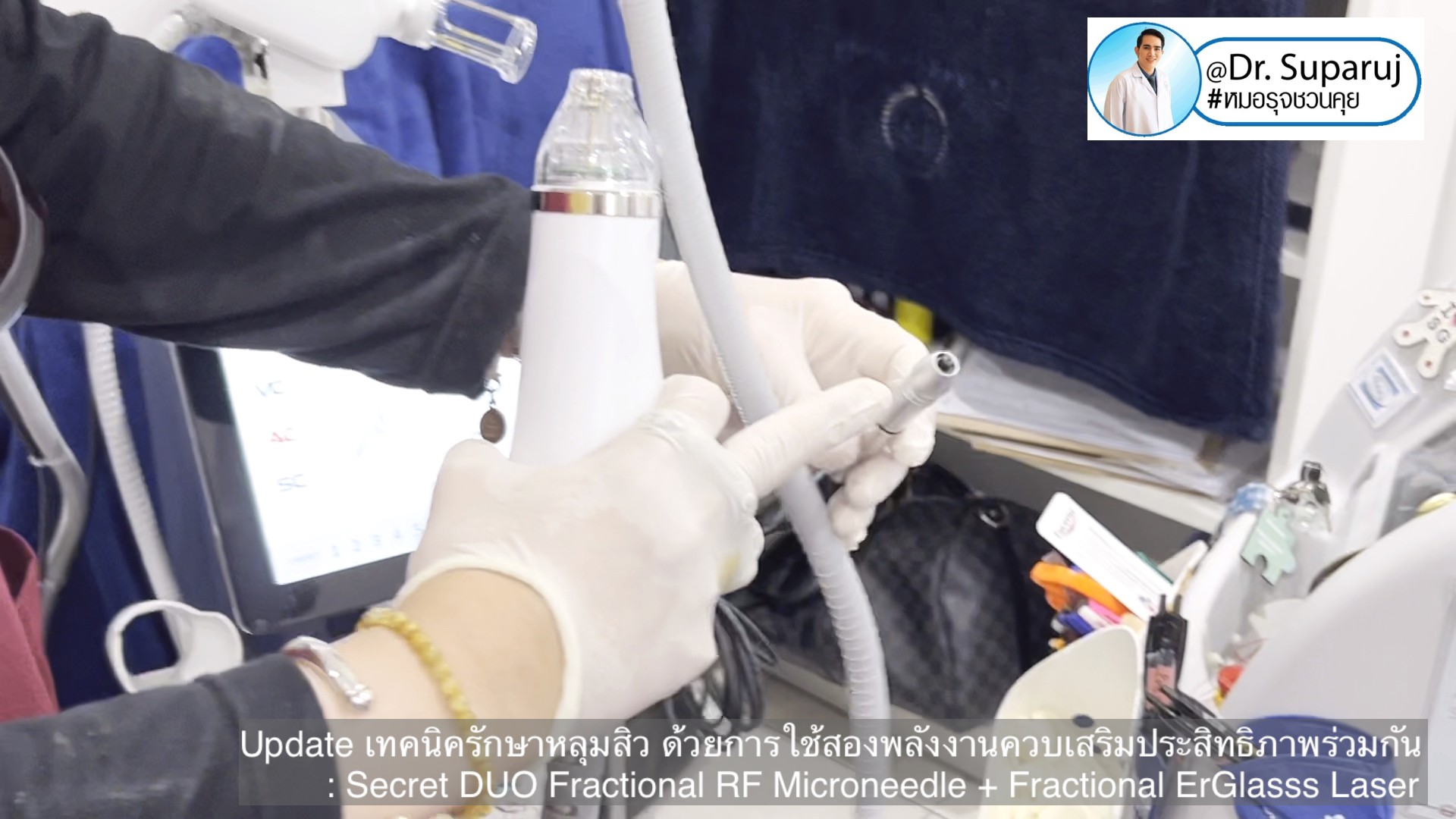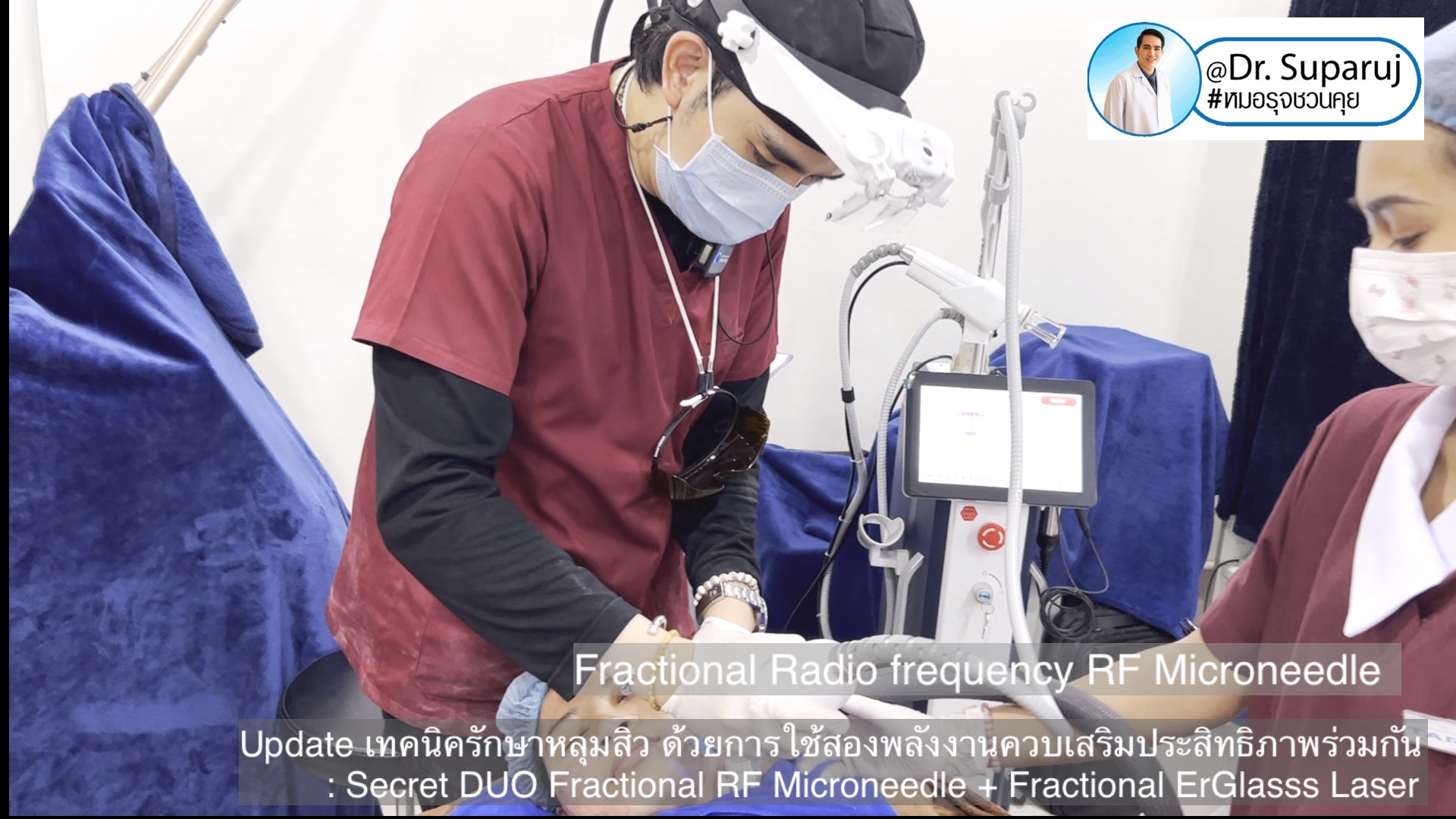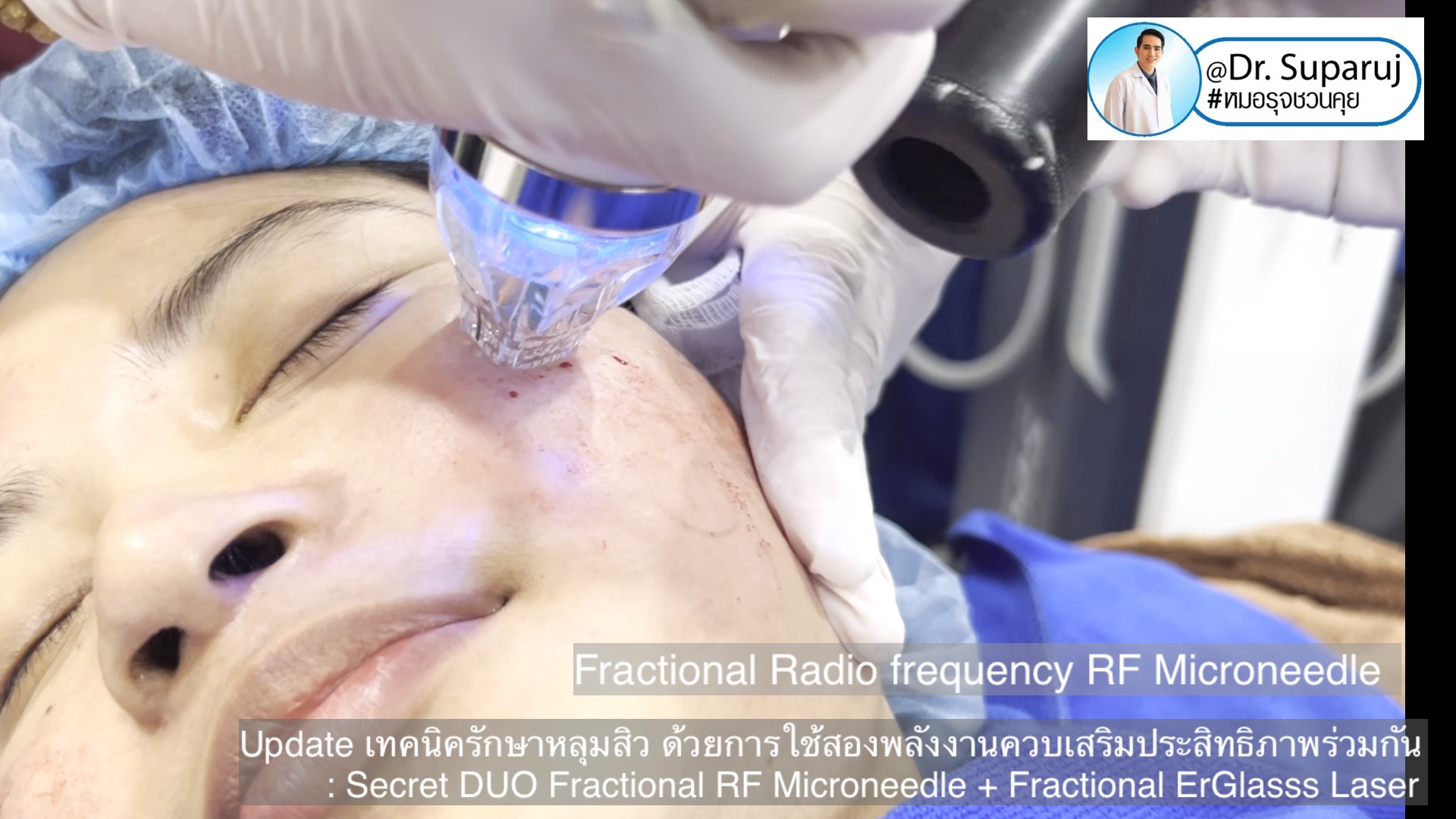 About Secret DUO
The 1st Fractional 1540nm Er:Glass Laser with RF Microneedling
Secret DUO combines the perfect synergy for a much gentler non-ablative skin resurfacing procedure. Offering the newest treatment combination in the market, Secret DUO introduces the first dual laser device to have fractional 1540nm Er:glass laser and RF microneedling.

These two highly advanced technologies can work either as an individual or combination treatment to help with a broad range of skin issues. Using only the finest medical-grade microneedles, Secret DUO can deliver RF energy at an adjustable depth of 0.5mm to 3.5mm.

What's more, Secret DUO is now the preferred choice as most patient results show significant improvement in active acne, atrophic scars, wrinkles, skin laxity, stretch marks, enlarged pores, spider veins, and other noticeable signs of skin aging.

Secret DUO features a fully upgraded system with an advanced user-friendly GUI, five versatile scan patterns, unique SmartCure™ technology, and many more. Discover the many benefits and innovative technology behind Secret DUO
Cr:หมอรุจชวนคุย

https://youtu.be/_GcPoO9S84A
https://s.lemon8-app.com/s/mhQbrdMkQR
https://vt.tiktok.com/ZSLgTxw5k/
https://youtube.com/shorts/3ZecePIyUMM?feature=share
https://x.com/drsuparuj/status/1692578220284195311?s=46&t=4qYp2uAwziMgaMmgVGnMyQ
https://www.instagram.com/reel/CwF9aYpp5jL/?igshid=MzRlODBiNWFlZA==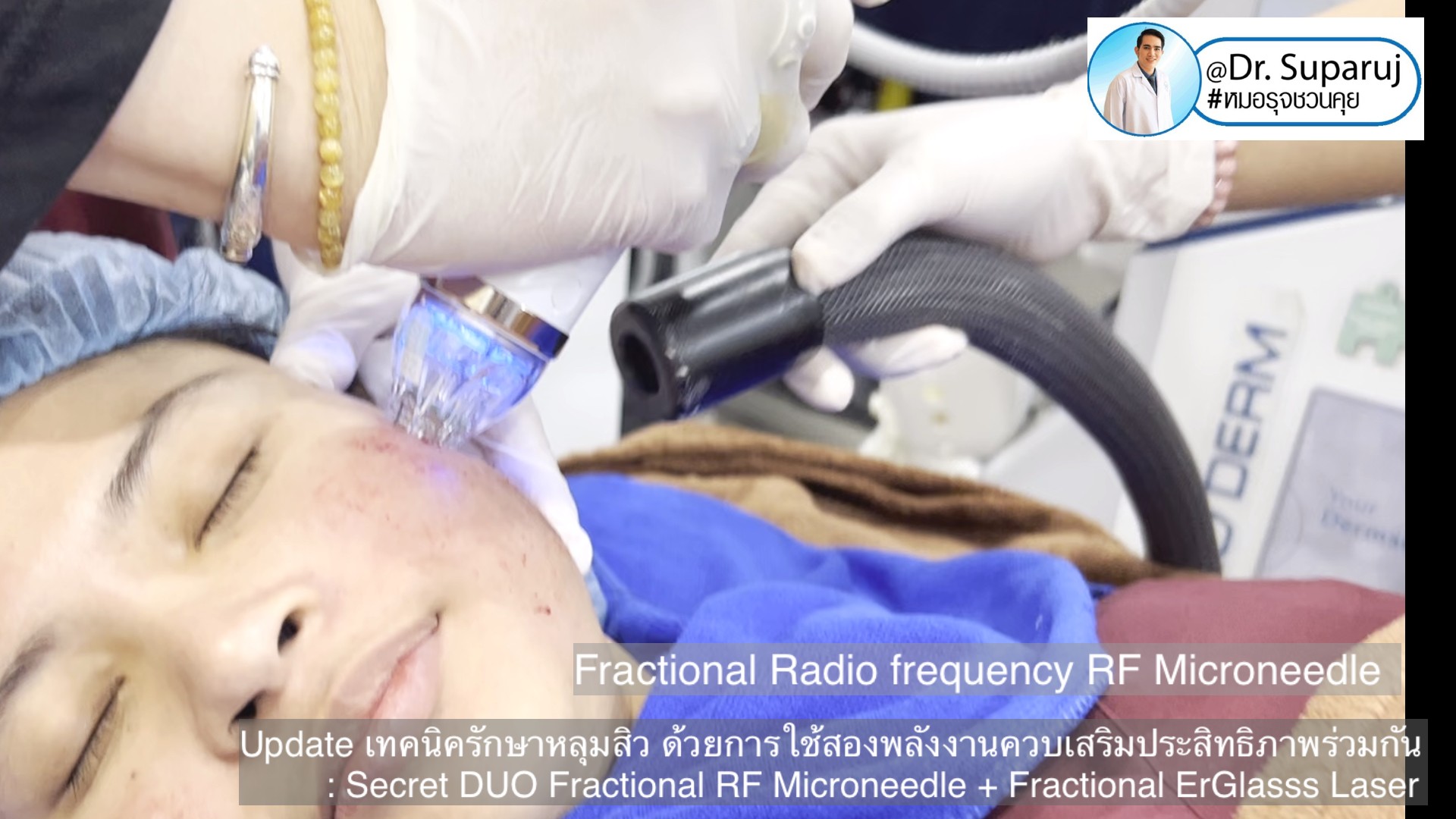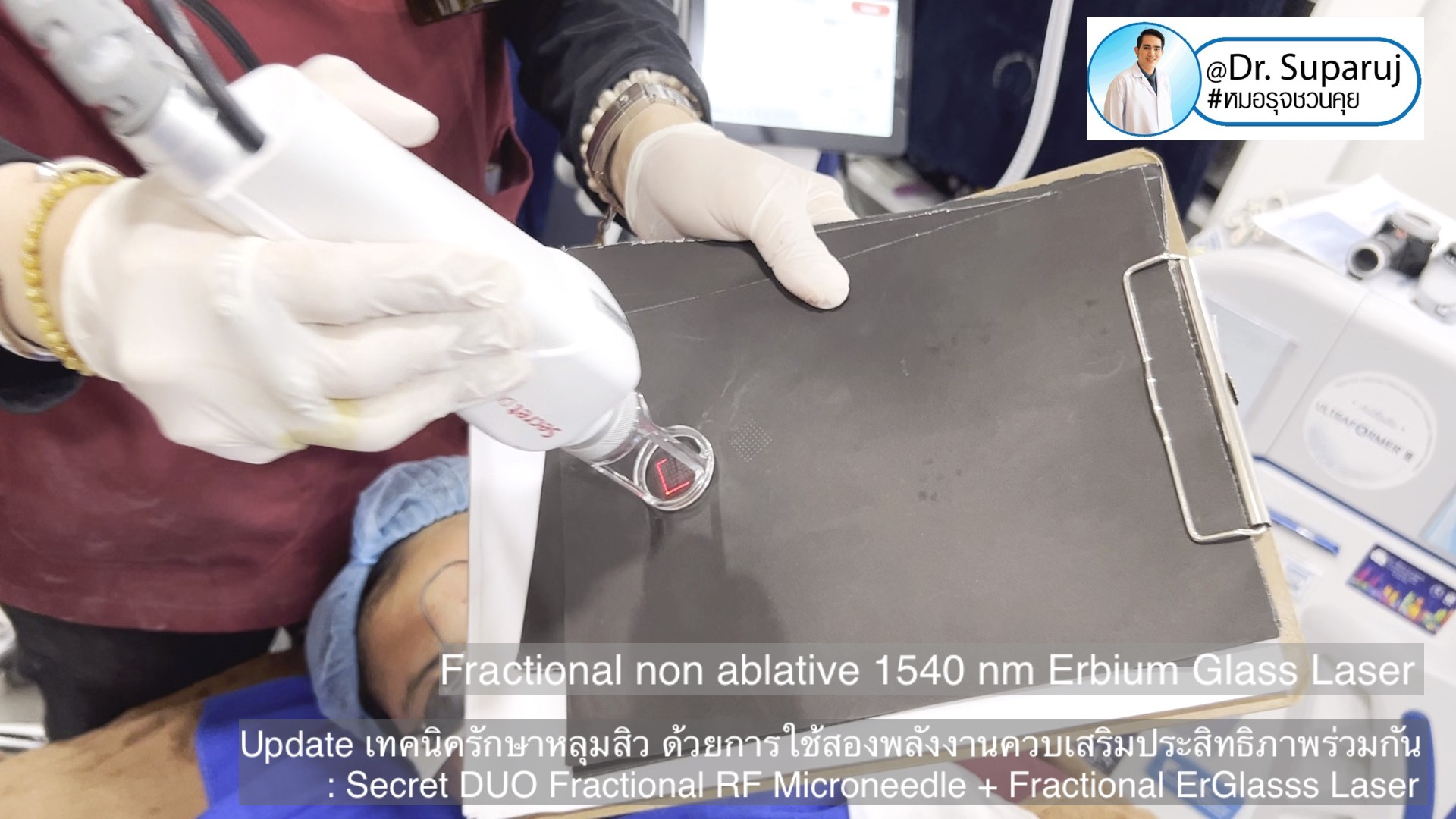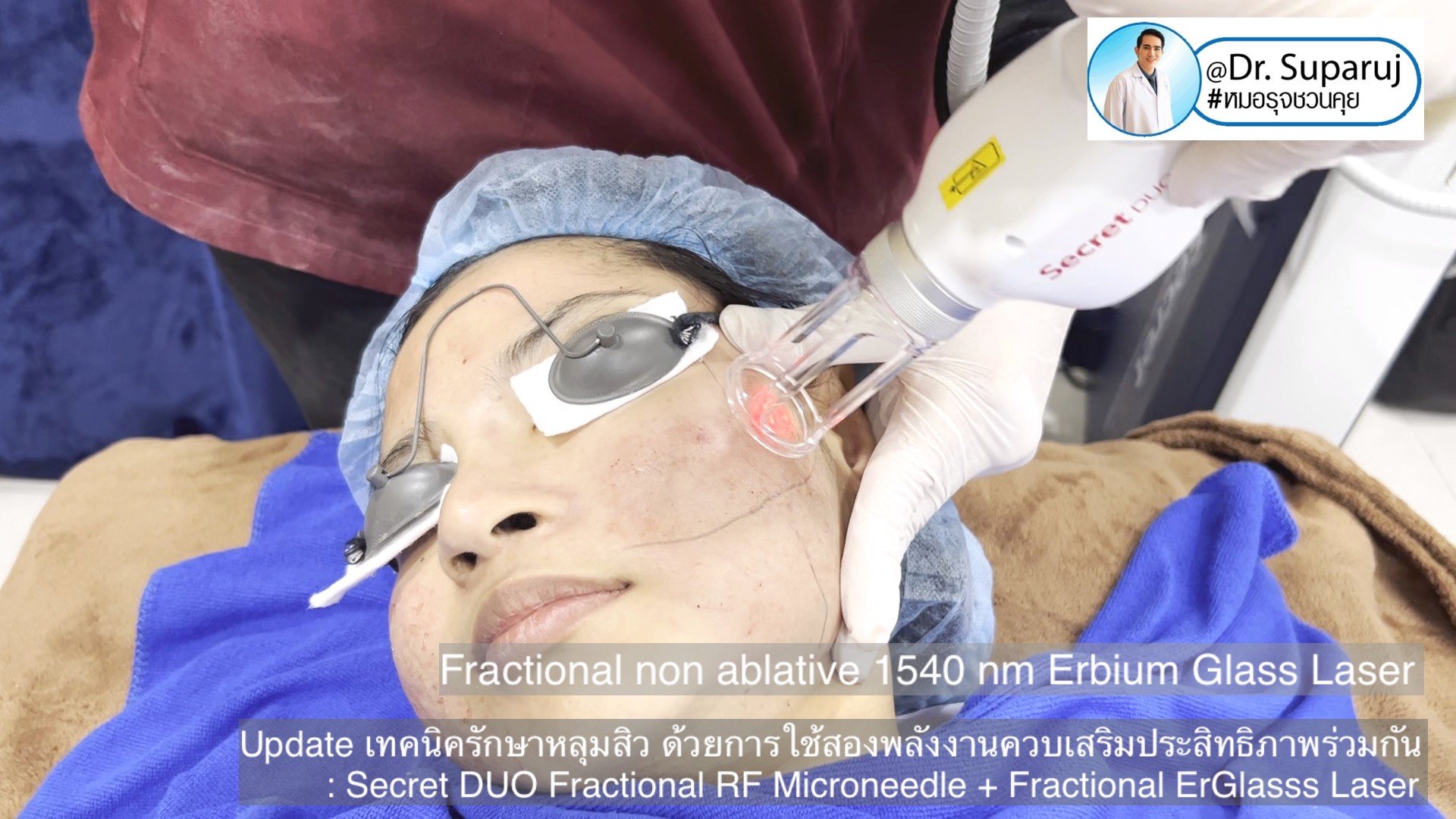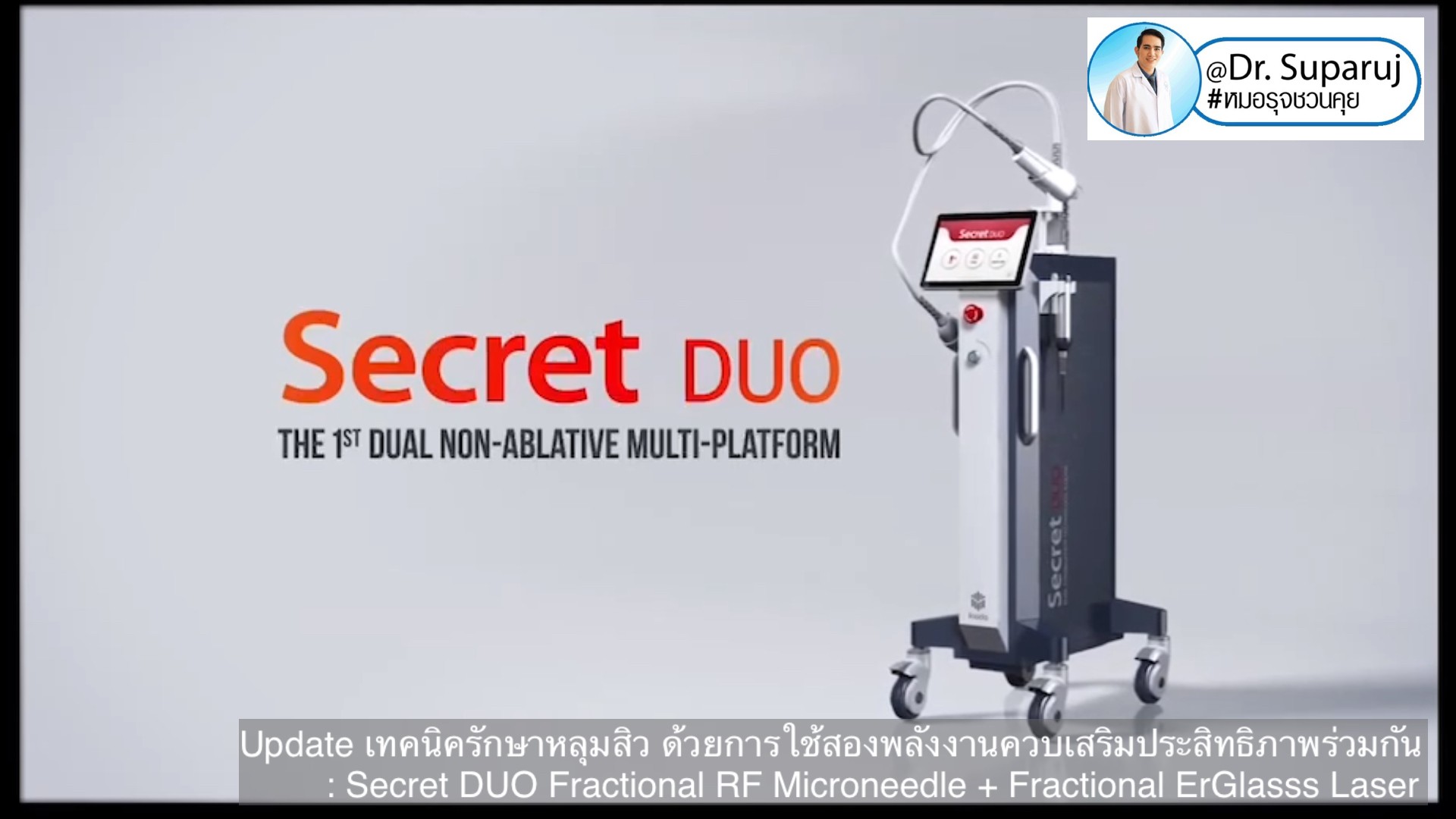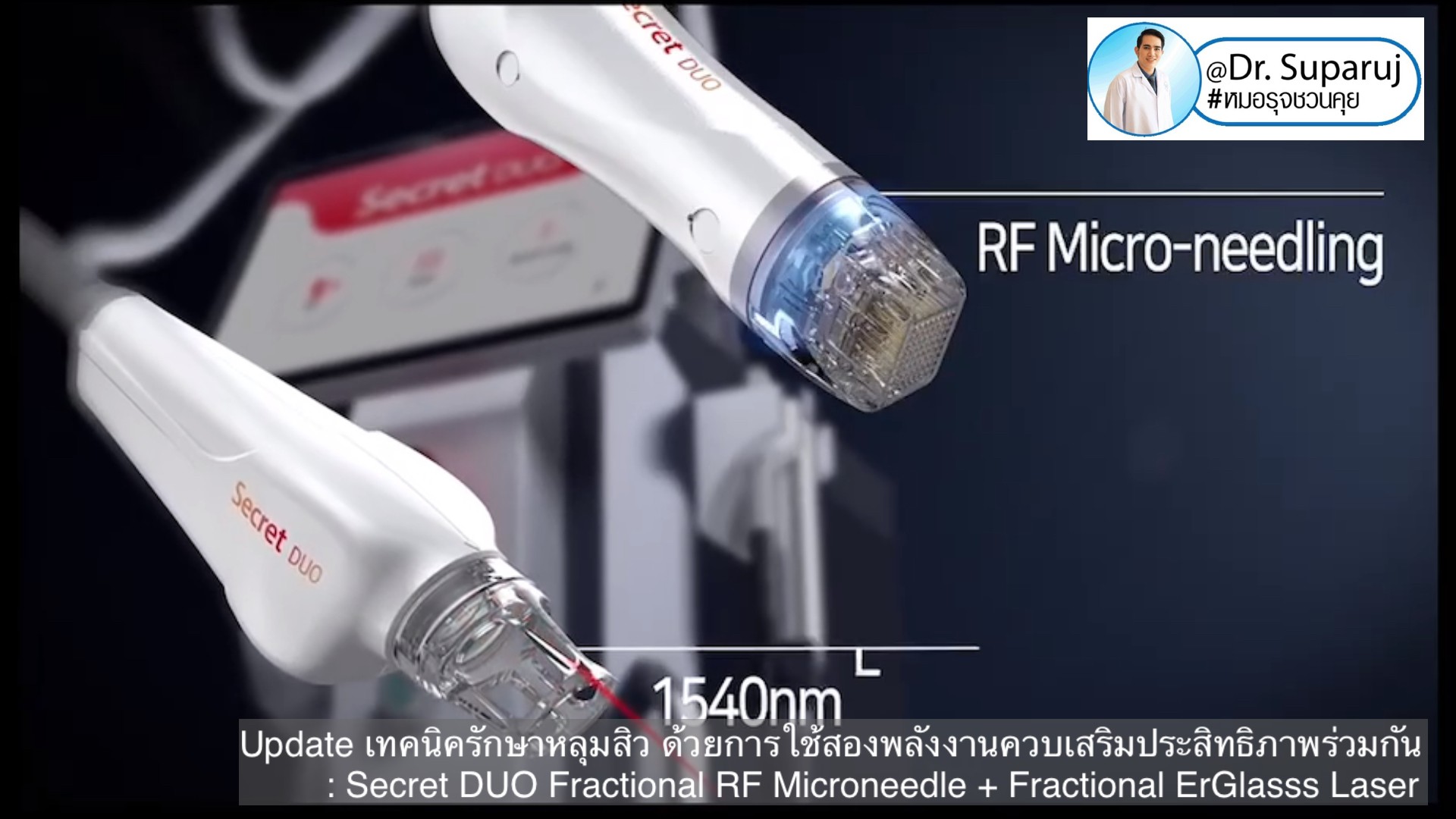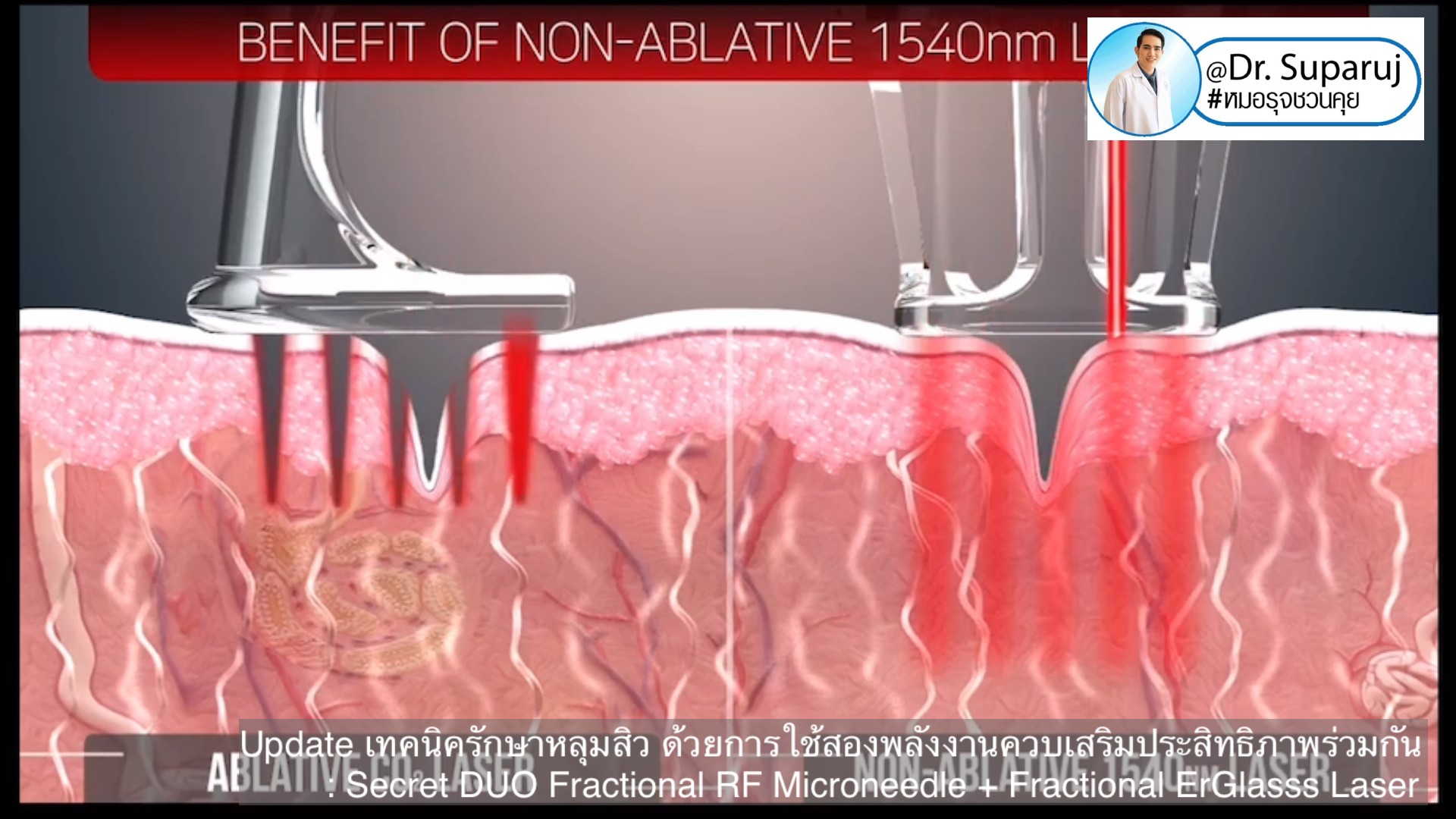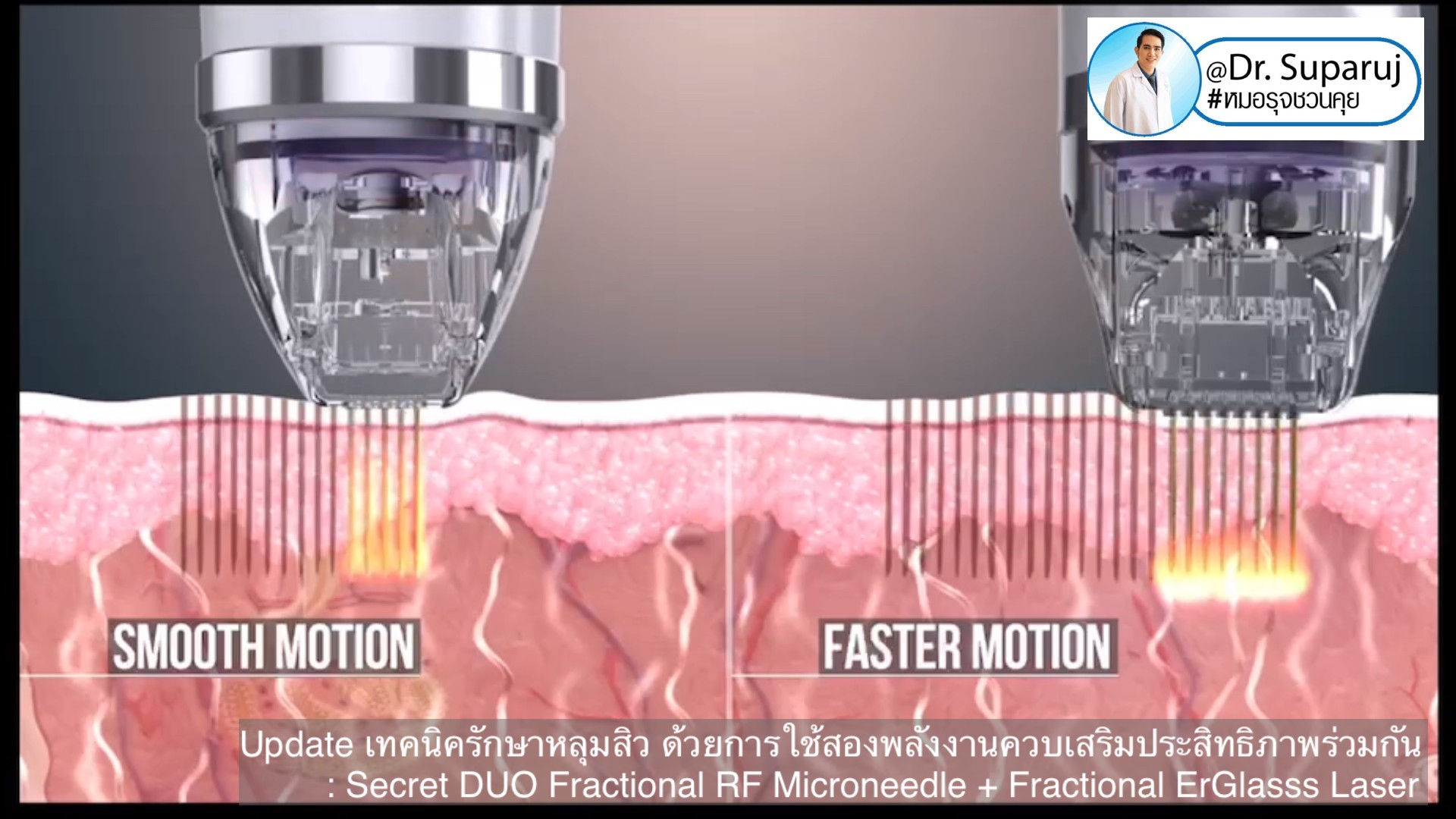 Secret DUO Treatments
Experience ultimate power with Secret DUO. This highly versatile device delivers the perfect synergy that can treat a broad range of skin issues using its 1540nm Er:Glass laser and RF microneedling. Secret DUO is the first aesthetic device of its kind to combine these two non-ablative fractional technologies.

Secret DUO can stand alone as an RF microneedling or Er:Glass laser treatment. But to achieve superior results, it is highly recommended to combine these advanced treatments in a single session. Secret DUO combination treatments first start with RF microneedling which is then proceeded by the Er:Glass laser treatment.

Once the microneedles reach an optimal depth of the skin, that specific layer receives RF pulses which can stimulate the growth of new tissues and collagen. Next, the Er:Glass laser distributes varying heat levels and it can target the inner epidermis to maximize the effect of the treatment. This whole procedure activates skin cell renewal and removes damaged tissues for a smoother and tighter texture. Check out the main features of Secret DUO below.

5 Different Scan Patterns
Secret DUO is equipped with advanced scanning technology that allows faster and more efficient treatments for the face and body. It also comes with adjustable scan sizes of up to 10x10mm and five different scan patterns which include circle, half circle L, half circle R, square, and triangle. Secret DUO treatments are fully customizable and can deliver a personalized touch for every patient.

Gold Medical-Grade RF Microneedle Tips
When delivering RF microneedling treatments, Secret DUO uses the finest medical-grade microneedles that are gold-plated, rigid, and durable. With this incredible feature, Secret DUO creates higher volumetric heating and more uniform dermal remodeling which results in new collagen production. In addition, there are a variety of semi or non-insulated tips to choose from that includes 10, 25, and 64-pins.

I-MOTION Feature
With its I-MOTION feature, Secret DUO can deliver multi-sub-pulses that allows deeper penetration but with less heat dissipation into the skin. Secret DUO treatments offer a much gentler approach to skin resurfacing. As compared to other laser treatments, Secret DUO has a significantly reduced downtime. It also promotes better healing of the skin after the procedure as no thermal damage is done to the epidermal layer and surrounding tissues. The are also no risks of side effects.

Advanced Graphical User Interface (GUI)
Secret DUO is equipped with an advanced yet user-friendly GUI that already has the most efficient preset parameters set in place. This convenient technological feature makes it simple and easy for any practitioner to treat a broad range of skin issues.

Micro-Needle Fractional RF
Secret DUO's Micro-Needle Fractional RF is an advanced handpiece that provides higher volumetric heating and more uniform dermal remodeling. The Micro-Needle Fractional RF handpiece also allows better delivery of bipolar RF energy at an adjustable depth of 0.5mm to 3.5mm of the skin per pulse.
Using only the finest medical grade microneedle tips, physicians can select from a range of semi or non-insulated tips that include 10, 25, and 64-pins. Secret DUO's Micro-Needle Fractional RF is ideal for the treatment of photoaging and scars on the face and body.

1540nm Er:Glass Fractional Laser
Secret DUO's 1540nm Erbium Glass Laser delivers powerful beams deep into the skin in multiple micro-columns. It targets the dermal water, which in effect stimulates new collagen production and optimal dermal remodeling.

Allowing a much gentler skin resurfacing procedure, Secret DUO's 1540nm Erbium Glass Laser lets the treated skin heal faster with minimal to no downtime. There's also no damage done to the epidermis.
This highly efficient laser can distribute different levels of heat in the skin for every pulse. With its standard (300um) and optional (600um) lenses, Secret DUO can cover and smooth out blemishes in small to large surface areas of the skin.

SmartCure™
The SmartCure™ electro pen is an optional handpiece add-on to the Secret DUO device. SmartCure™ allows physicians to perform a wide range of thermo-coagulation techniques (for a more targeted effect) using an insulated electrolysis or nokor needle.

There's also a variety of needle types to choose from which can treat a larger range of conditions such as spider veins, acne, wrinkles, and depressed scars. Check out the SmartCure™ needles below.

Secret DUO Benefits
With its fully upgraded system, Secret DUO delivers the most reliable and effective results for the treatment of wrinkles, spider veins, acne scars, stretch marks, and more. Furthermore, Secret DUO is virtually painless and clinically proven to leave a long-lasting effect on the skin.

Many patients have reported continuous improvement for up to six months following their last treatment session. The effect of combining RF microneedling and Er:Glass laser delivers long-lasting results that no other device can offer.
...
คลิก!! จองสิทธิ์!! เพื่อรับข้อเสนอพิเศษ
(จำนวนจำกัด)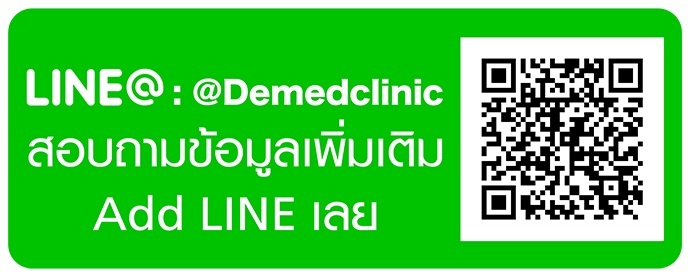 ...
ปรึกษาคุณหมอหรือสอบถามเพิ่มเติมได้ที่
Tel : 063-959-4392 / 063-896-2514
Line: http://line.me/ti/p/@Demedclinic
Line: @Demedclinic
Wechat/Whatsapp: Demedclinic
IG: https://www.instagram.com/drsuparuj
www.facebook.com/drsuparuj
Youtube: https://bit.ly/3p20YLE
Blockdit: https://bit.ly/3d8vYr1
https://vt.tiktok.com/ZSJ141Mdf/
https://mobile.twitter.com/drruj1
www.demedclinic.com / www.demedhaircenter.com